YetiCare diversifies elderly care in Spain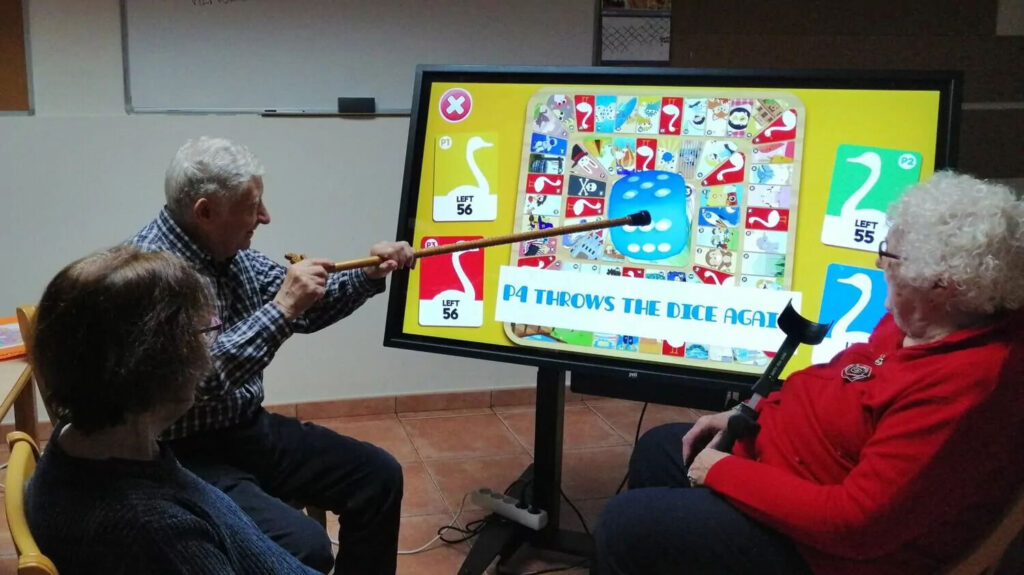 Assistive technology in Clece Spain
Clece is one of the leading service providers for the Social and Care sector in Spain, Portugal, and the UK. They aim to improve the quality of life for more than the 1 million people they look after at their care homes. They offer services for seniors, children, people with special needs, the homeless, youth at risk, and victims of gender violence.
In the Spring of 2019, Clece started using Yetitablets to test if they had the potential to help the staff do their job better while improving the quality of life of their clients.
A closer look at YetiTablet's potential
At first glance, it's easy to see the possibilities of using a YetiTablet in the care environment. It can make the staff's work easier, but more importantly, it gives access to technology to those users who didn't have it before. To be certain that such access would have a positive effect on their residents, Clece did a thorough evaluation of YetiTablet in four of their senior care homes in Spain.
The experiences were focused on testing applications for therapy recreation; cognitive rehabilitation; sensory, emotional, and physical stimulation; memory; attention; and reminiscence. Apart from the wide variety of applications downloaded from the Play Store, NeuronUP's software was used for neurorehabilitation patients under a clinically-backed framework.
The main objective
The main objective of the four care homes was to test if YetiTablet could improve their customers' experience while helping their staff to facilitate the various therapies they provide.
Secondary objectives
Improve stimulation in the elderly and creation of activities
Facilitate access to new resources associated with entertainment.
Work on reminiscence as a therapy to stimulate memory through access to places or information from the past.
Provide users with a much more attractive format than conventional devices.
Encourage cognitive stimulation in a more dynamic way through the use of new technologies.
Restore and/or maintain the cognitive abilities of residents.
How YetiTablet was used in Clece
For therapeutic leisure through group activities and games like karaoke, hangman, bingo, board games, music, movies, etc.
For stimulating information processing (problem-solving, remembering, learning) and senses with the help of different applications (brain games, sensory applications and, for example, sharing family photos)
For reminiscence therapy with Google Earth.
For maintenance of physical abilities with exercise applications.
For rehabilitation exercises of brain-damaged individuals.
For exercising working memory, attention orientation and executive functions.
For practising and developing everyday life functions, logical reasoning and linguistic functions with the aid of the NeuronUP application
Observations
Both the seniors and staff liked the ease of use of the YetiTablet. It felt like using a smartphone. The staff didn't even need training as the device was very intuitive.
The device has some useful features for care environments. The size of YetiTablet facilitates reading for people with low vision; the motorized stand allows the device to be raised and tilted so it's easily adapted to each user's mobility needs. Moreover, the shock resistance meant that the staff didn't need to stress about a user hitting and breaking the screen.
The size was key in facilitating more group activities that previously were harder to do on paper. The novelty factor also made activities more interesting for the residents and helped them to participate more and bond as a group.
The devices were already installed with apps ideal for the care environment. This saved time as the staff didn't need to research potential uses, test, or download apps. It came with 60 potential activities out of the box so the staff already had plenty of ideas on what to do with it.
If any of the preselected apps didn't suit the needs of the user, the staff still had the freedom to download from the Play Store any other app that they wanted.
Benefits for the seniors
The novelty of technology increased interest and participation in certain activities
The access to technology provided them with a sense of belonging in today's society: "The world is changing and we too are changing with it".
It has enhanced their hobbies (nature, history, music, movies) with the knowledge available on Youtube or the browser.
It has generated greater independence in users, through better adaptability to their possibilities.
It has allowed better access to information, so they have gained new knowledge; whereby their minds remain more aware of their environment.
It has contributed positively to social interaction, communication, and collaborative work as the size easily turns any individual activity into a group one.
It has been a support tool for memory exercises and the possibility of performing tasks that due to motor problems they had not done again. For example, play piano, guitar, and sing, among others.
Benefits for the professionals
It allowed the incorporation of new activities in a more playful and interactive way.
It has made it easier and faster to plan and organize activities.
It has made it possible to have so many materials in one place (TV, internet, board games, etc.)
Advantages over other welfare technology solutions
The larger screen and adaptability of the device make it ideal for people with visual or motor impairments who can't use smaller devices.
The ease of use from having the same Android OS that people use on their phones meant that no time was wasted in training staff.
The freedom to download as many apps as they wanted as the user is never locked down to the software Yetitablet provides.
Conclusions
The main objective of the four Clece care homes was to test if YetiTablet could enhance their customers' experience while helping their staff to facilitate the various therapies they provide. Other objectives were for example to create more activities for the seniors, facilitate access to new entertainment, work on memory stimulation and encourage and maintain cognitive skills. We are glad to see that the Clece pilot succeeded, achieved its goals and exceeded them. In addition to practising cognitive skills, residents' well-being, sociality, and sense of belonging also increased and that is really amazing.